Colonial Academic Alliance Undergraduate Research Journal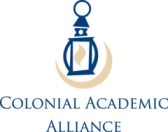 The first issue of the Colonial Academic Alliance Undergraduate Research Journal, hosted by GSU, has just been published!
The CAA Undergraduate Research Journal is a peer-reviewed journal for undergraduate work of the highest caliber. Its goals are to add to the body of knowledge in all fields and to showcase the outstanding scholarship of undergraduates. It provides a forum for students to publicly share their research, offering opportunities for exposing their work to potential graduate programs and employers. By making use of student reviewers, the journal also provides the opportunity for undergraduates to participate in the scholarly publishing process.
For this issue there were no submissions from GSU students, but a number of GSU faculty served as reviewers. We're hoping that there will be GSU student authors represented in the next issue.
The Colonial Academic Alliance develops, promotes and facilitates collaborative programs and resource sharing to enhance academic quality and institutional effectiveness throughout  member institutions.  The members are made up of institutions that belong to the Colonial Athletic Association.