Photo of the Week: Summerhill Marble Players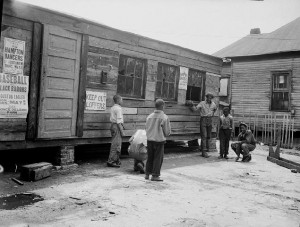 Relatively few photographs exist of Atlanta's African-American community in the mid 20th century.  Fewer still depict children's games, slum conditions, vernacular architecture, clothing worn by the poor, or ephemerial posters of African-American events.
Commissioned in 1949 by the Citizen Crime Prevention Commission, photographer W.C. Lane, Jr. captured these rarely documented subjects.  The photo shows African-American boys playing marbles in a swept yard in front of a dilapidated structure.  The building is plastered with posters advertising the upcoming Hampton Dancers performance and the Black Barons vs. Boston Eagles baseball game.
The Summerhill neighborhood, south of Atlanta, Georgia, was established after the Civil War and was settled by freed slaves and Jewish immigrants.  Much of the neighborhood was displaced in 1964 by the Atlanta-Fulton County Stadium, which was later replaced by the Centennial Olympic Stadium, now Turner Field.
Summerhill is featured in Athlone Clarke's Lest we forget:  Atlanta's disappearing black neighborhoods, published in 1996.
To participate in the Photo of the Week forum, please offer a critique of the photograph — its significance, historical value, and importance to you.