Sunday, August 22: Panther Welcome at the Library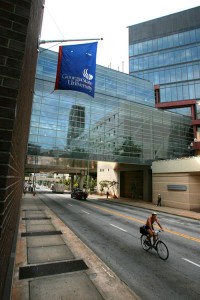 On Sunday, August 22, the Georgia State University Library will be open from noon until 8:00 p.m. as a part of Panther Welcome Week. This is a perfect opportunity for new students to beat the first week rush and find out what the library has to offer before classes start. Students and parents that are on campus for Freshman Convocation can also use this opportunity to tour the facility with an expert librarian, who will provide information on study rooms, computer stations, internet access and the 1.5 millions resources the library has.
Amy Harris, our Undergraduate Services Librarian, will also be available at this event to meet with new students. Harris has created an online research guide for students that introduces general research practices and library basics. She has also created an online collection of resources relating to Georgia State's First-Year Book Program selection Outcasts United.
Following Freshman Convocation, the library will host a reception with Warren St. John, the author of Outcasts United. Sponsored by The Office of Undergraduate Studies, this is a unique opportunity to meet with an author whose book will impact the entire Georgia State community in the coming school year. Outcasts United will be a mutual point of identification for developing a sense of community between students and faculty. Discussing the book directly with its author will benefit its readers and instructors alike.
The Georgia State University Library is one of the most attractive, open and inviting education facilities in the Southeast. If you're on campus this coming Sunday, stop in and see it for yourself!