Undead Summer Entertainment
Last month the forthcoming TV series The Walking Dead was filmed in the Fairlie Poplar district of downtown Atlanta, and Atlantans were offered the chance to don zombie makeup and serve as extras. If you'd like to take in some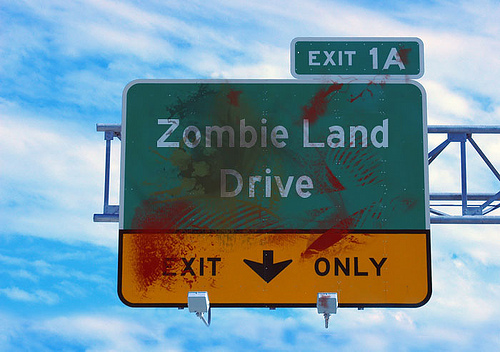 zombie literature or films before the show airs, the University Library can help.
Pride and Prejudice and Zombies: The Graphic Novel
by Tony Lee
Read the graphic novel adaptation of this popular Jane Austen remix.
White Zombie
directed by Victor and Edward  Halperin
This 1932 movie was one of the first to define the zombie genre. It stars Bela Lugosi.
Zombie Culture: Autopsies of the Living Dead
by Shawn McIntosh and Marc Leverette
This collection of scholarly essays features explorations of zombie movies from various countries and dates.
The Serpent and the Rainbow
directed by Wes Craven
This 1988 film features Bill Pullman, and provides a fictional tale of Haitian voodoo.
Gospel of the Living Dead: George Romero's Visions of Hell on Earth
by Kim Paffenroth
George Romero has been the most prolific producer of zombie films in America. This work explores his vision of the genre and its meanings.