Leo Frank Trial Report Digitized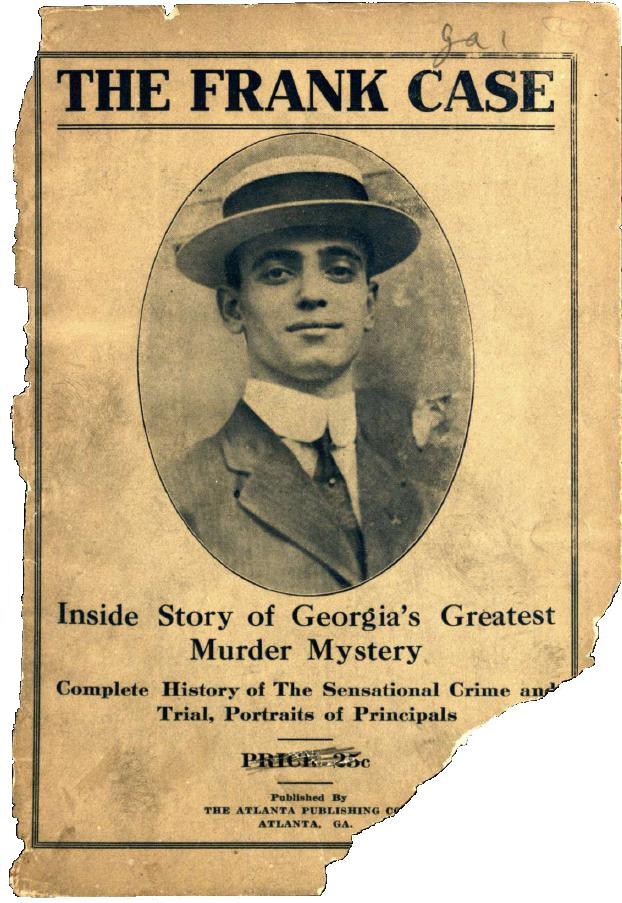 In 1913, "little Mary Phagan" was murdered at the National Pencil Factory in Atlanta, Leo Frank was tried for the murder, and in 1915, he was lynched by an angry mob in Marietta. Since then, the case of Leo Frank has been closely studied and debated.
Recently, an award-winning film about the murders, The People v. Leo Frank, premiered in Atlanta (April 2009), and an academic publication about the Frank case as it has been portrayed in popular media was issued (Bernstein, Matthew. Screening a Lynching: the Leo Frank Case On Film And Television. Athens: University of Georgia Press, 2009).
Scholarly works on Leo Frank cite an extremely rare book published in Atlanta in 1913, the year of Phagan's murder and Frank's trial:  The Frank Case: Inside Story of Georgia's Greatest Murder Mystery (Atlanta, Ga.: Published by the Atlanta Publishing Co., copyright 1913).  It is uncertain how many copies of this work were printed, but few copies are known to exist. Printed on acidic newsprint, all remaining examples of the 144-page description of the Frank trial are extremely fragile.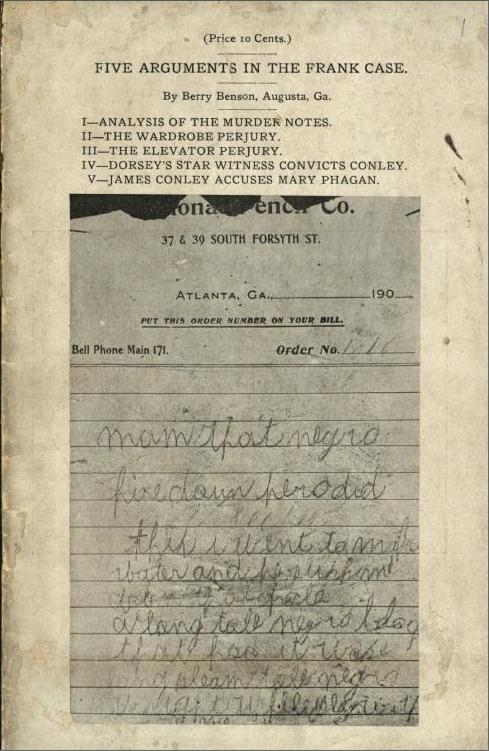 To preserve the content of the publication for researchers, the Special Collections and Archives Department has produced a full-text digital copy of The Frank Case from the James Walter Mason Collection and made it freely available on the library's website. 
The department has also digitized a later, more commonly available work on Leo Frank, also from the Mason Collection: Berry Benson's Five Arguments in the Frank Case.   I — Analysis of the Murder Notes.   II — The Wardrobe Perjury.   III — The Elevator Perjury.   IV — Dorsey's Star Witness Convicts Conley.  V — James Conley Accuses Mary Phagan. (Augusta, Ga.:  s.n., 1914 or 1915).
The James Walter Mason Collection was given to Georgia State University in the 1950s. It includes many 19th- and early 20th-century works on Georgia and the Southeastern United States. Most of these publications are in the Rare Book Collection and are listed in GIL, the library's online catalog.
Two frequently cited sources for research into the Leo Frank murders include
The Rare Book Collection housed in the Special Collections and Archives Department, is a non-circulating collection available for research during the academic year, Monday through Friday, 9:00 AM until 5:00 PM.
Frank, Leo, 1884-1915
Phagan, Mary, d. 1913