Each year the Department of Religious Studies selects three students from among its undergraduate majors and Master's students for special recognition. This year the Department is pleased to announce that Kenneth Smith, Matthew Lyons, and Audra Esker will be receiving the 2010 student awards.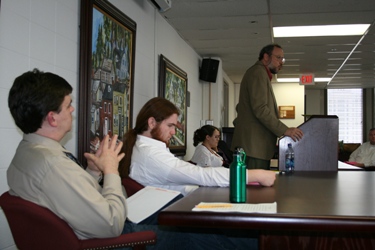 Kenny Smith, who is completing his Master's degree this spring, will be receiving the Dr. Timothy Renick Graduate Award in Religious Studies. Kenny has been accepted (with a full stipend) to the doctoral program at Emory University in the Graduate Division of Religious Studies. Graduating senior Matthew Lyons will be receiving the Dr. Robert Arrington Undergraduate Award in Religious Studies. Matt is completing undergraduate majors in Philosophy and Religious Studies this spring, and he has been accepted to the M.T.S. program at Harvard University with a Presidential Scholarship. Finally, Masters student Audra Esker will be receiving the Outstanding Graduate Teaching Assistant Award. Audra did her undergraduate work at Georgia State University, and she has been a particularly effective classroom instructor for RELS 2001, the Department's new core course.
Please join the Department of Religious Studies at 4 p.m. on April 15th in the Troy Moore Library (GCB 939) where these three students will be honored as a part of the Religious Studies Student Symposium, an event at which undergraduate and graduate Religious Studies students present papers on their latest research.
Interested in learning more about religious studies? The library has many books and articles on a variety of religious studies topics, all of which can be found using the Library's Online Catalog, GIL and article databases.