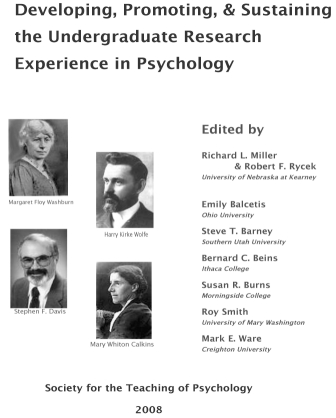 Developing, Promoting & Sustaining the Undergraduate Research Experience in Psychology is now available online from the Society for the Teaching of Psychology.  This book is a collection of articles about undergraduate research.  Although the examples are largely from psychology, the material is relevant in other disciplines as well.
The book includes sections on
Institutionalizing Undergraduate Research
Successful Models of Undergraduate Research
Conducting Undergraduate Research
Special Types of Research Opportunities
Faculty and Student Roles
Sharing the Results of Research, and
Assessment and Evaluation
The University Library Undergraduate Research Awards recognize library-based undergraduate research.  The deadline for application for this year's awards is January 15.
Undergraduate research is highlighted and celebrated each year at the Georgia State Undergraduate Research Conference, which will be held this year on March 24, 2010.
How does your department recognize and encourage undergraduate research?