Avatar: Cultural Issues in Cinema
The controversial blockbuster movie Avatar, now in theaters, explores issues of cultural belonging, cross acculturation, and cultural appropriation. The Georgia State University Library holds many materials on these social topics (though they all relate to life on the planet Earth); students from communication, humanities, or social science programs could use these topics as class paper or project inspiration in the coming semester.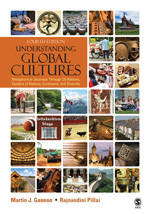 A World of Others' Words: Cross-Cultural Perspectives on Intertextuality
By Richard Bauman
Holding Worlds Together: Ethnographies of Knowing and Belonging
Edited by Marianne Elisabeth Lien and Marit Melhuus
Understanding Global Cultures: Metaphorical Journeys Through 29 Nations, Clusters of Nations, Continents, and Diversity
By Martin J. Gannon and Rajnandini Pillai
The Ethics of Cultural Appropriation
Edited by James O. Young and Conrad G. Brunk

The Five Stages of Culture Shock: Critical Incidents Around the World
By Paul Pedersen
Did the movie Avatar inspire you to learn about any other issues, cultural or otherwise? Please post them here for discussion.