Since the 6th edition of the Publication Manual of the American Psychological Association was released in July, there have been many comments from librarians, faculty, and students, about rules that have been changed from the 5th edition.  It is no easy task to interpret the 188 style rules contained in the 6th edition.
One change that I find confusing is the way APA says to cite a full-text article found in a subscription database. If you think the answer is easy, take a look at the flow chart that APA posted on their APA Style Blog: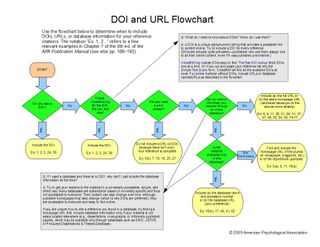 Once you figure that out, make sure you check the 16 page errata supplement that was just released for the 1st printing, which includes corrections of typographical errors, errors in content and problems with sample papers in the book.
Correcting a Style Guide is a short article in the October 13, 2009 edition of Inside Higher Ed.   Over fifty comments have been posted in response to the article, and many people (including librarians) are demanding free replacement copies for the 1st printing of the manual that they purchased (it doesn't sound like any of these demands have been met as of yet).  The University Library owns several copies of the 6th edition 1st printing – should we paste the errata supplement in the books, or somehow alert users to go online and try and find the corrected pages?
MLA anyone?