Casey Long — Library Journal Mover & Shaker 2009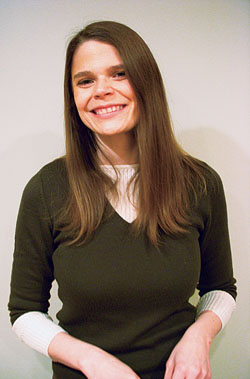 In the March 2009 issue of Library Journal, the magazine's editors added Georgia State University Librarian Casey Long to their list of "Movers & Shakers" for 2009. As the role of libraries changes through the 21st century, it is important that new leaders like Long emerge to guide the transformation. Being selected as part of this group requires innovation and imagination. Long's demonstrated improvement of student information literacy in the J. Mack Robinson College of Business easily qualified her for the honor.
Library Journal has been identifying librarians like Long as Movers & Shakers since 2002.  They are people who the editors believe will shape the future of libraries. Each tries new ideas and strategies, while using technology to solve problems creatively. Some of these librarians rise to prominence, as many library directors search for new talent at the annual Movers & Shakers luncheon at the American Library Association's summer conference.
Library Journal selected Long because of her determination to improve student information literacy. As a business liaison librarian for the Georgia State University Library, Long found that many seniors in the business program were not adequately prepared to do their research. In 2006 & 2007, she received instruction awards from the College of Business and the University Center for Teaching and Learning. Both were for developing an instruction session that she quantitatively proved to be effective at improving how students find and utilize information. Armed with this evidence, Long is convincing business instructors to integrate an undergraduate information literacy program into their core business classes.  By working strategically with three core courses, Long hopes to ensure all undergraduate business students are prepared with the information seeking skills necessary for success in their careers. She maintains this engaging curriculum by sustaining relationships with faculty throughout the business school.
Casey Long's commitment to assisting the university community is why Library Journal selected her for the Movers & Shakers of 2009. Through her "zealous pursuit" of a thriving information literacy program, she is helping define the future of libraries with fresh ideas and devoted service.