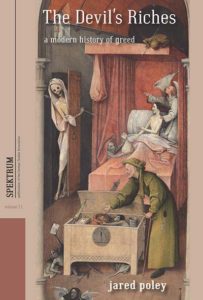 Prof. Jared Poley of the History Department has recently published The Devil's Riches: A Modern History of Greed (2016). A broadly ranging topical history, The Devil's Riches focuses on the evolution of the concept of greed over the past five hundred years.
A seeming constant in the history of capitalism, greed has nonetheless undergone considerable transformations over the last five hundred years. This multilayered account offers a fresh take on an old topic, arguing that greed was experienced as a moral phenomenon and deployed to make sense of an unjust world. Focusing specifically on the interrelated themes of religion, economics, and health—each of which sought to study and channel the power of financial desire—Jared Poley shows how evolving ideas about greed became formative elements of the modern experience. (from publisher's information)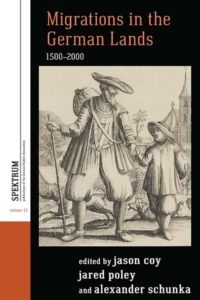 Prof. Poley is also the co-editor of another recent volume, Migrations in the German Lands, 1500-2000 (2016), which is a collection of essays on immigration to, from, and within Germany over the last five hundred years.
Migration to, from, and within German-speaking lands has been a dynamic force in Central European history for centuries. Exemplifying some of the most exciting recent research on historical mobility, the essays collected here reconstruct the experiences of vagrants, laborers, religious exiles, refugees, and other migrants during the last five hundred years of German history. With diverse contributions ranging from early modern martyrdom to post–Cold War commemoration efforts, this volume identifies revealing commonalities shared by different eras while also placing the German case within the broader contexts of European and global migration. (from publisher's information)
Prof. Poley's publications also include: