The Scholarly Impact Program at Georgia State University Library was launched in Spring 2013 to support faculty and graduate students in research output activity such as applying for promotion & tenure and identifying top researchers.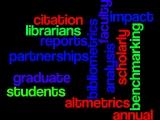 Program services include library workshops, individual consultations with subject librarians, and a research guide. The Scholarly Impact Program Survey is designed to evaluate the program to date and inform future programming.
To access the survey, go to this link:  Scholarly Impact Program Survey
Your feedback is appreciated!