CURVE Summer Upgrades
During the month of June, you will see a few enhancements happening in CURVE: Collaborative University Research & Visualization Environment located on the main floor of Library South.  Based on feedback over the last academic year, we are changing the furnishings and setup at the CURVE interactWall control console, 4K workstation, and Bloomberg/business research workstations to better facilitate group work and interaction. Most of CURVE is still open Monday-Thursday (9 a.m. – 5 p.m.) and Friday (9 a.m. – 4 p.m.). The only exception is the interactWall, which we plan to have back online sometime during the week of June 22-26.
It didn't take long for students to discover our new and improved furniture…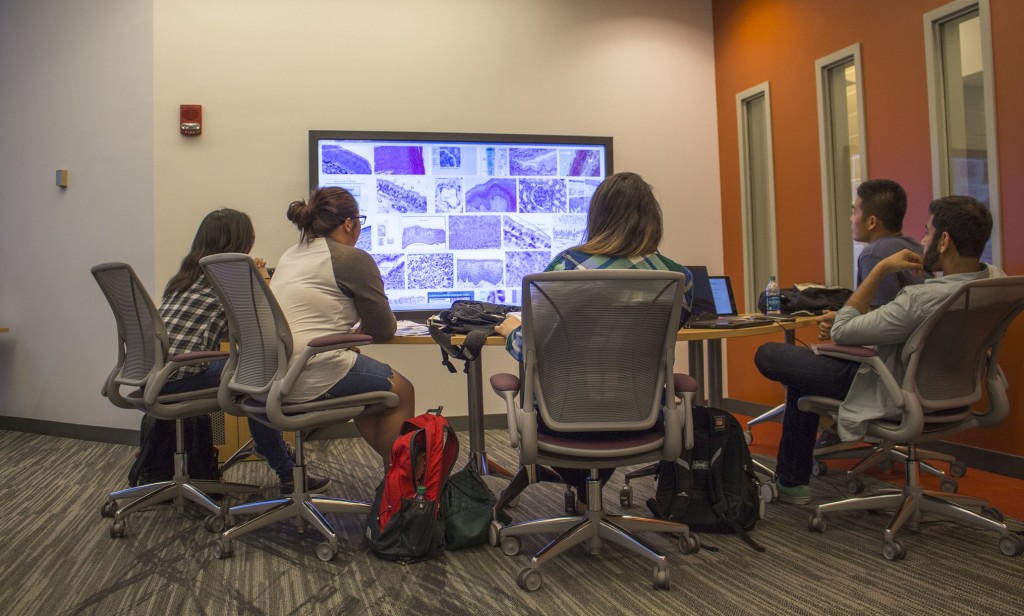 Pictured here: biology majors from Dr. Carmen Eilertson's Histology course (BIOL 4685) getting up-close with some "mucin-producing" cells at the 4K workstation.  Left to right: Lisa Phommaseng, Kimberly Shim, Rabiya Chand, Muhammad Anwar, and Ricky Ju getting in some visualization time and out of the heat outside.
For more information, visit the CURVE site at curve.gsu.edu