New Book by Social Work Professor Jill Littrell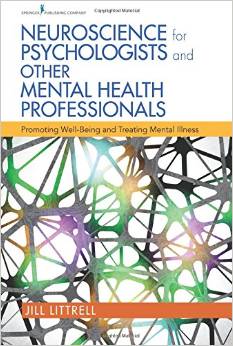 Jill Littrell is an Associate Professor at Georgia State University where she teaches Psychopathology, Drugs and Alcohol, and Research Methods to Social Work students. Her new book is, Neuroscience for Psychologists and Other Mental Health Professionals: promoting well-being and treating mental illness.
From the Publisher:
This book presents the latest neuroscience and physiological explanations behind the major diagnostic categories of mental illness—including schizophrenia, depression, anxiety, and addiction—and explains the physiological bases that underlie traditional pharmaceutical treatment interventions. Crucially, it integrates current information about brain function with new research on immunology, offering a research-based rationale for viewing the mind and the body as an integrated system. The new information on the physiological bases for behavior explains how lifestyle interventions related to diet, exercise, and interpersonal relationships can have dramatic therapeutic effects on mental health.
Of particular note in this book is cutting-edge information on fast-spiking GABA interneurons and the role of NMDA receptors in psychosis, the role of inflammatory processes in mood disorders, and gut microbiota's influence on inflammation. Beyond the physiology undergirding distress, the book also explores the physiological bases for health and resilience. Students and mental health professionals in social work, counseling, and psychology will learn how the same mechanisms available for overcoming mental anguish can be utilized for achieving life satisfaction.
KEY FEATURES:
Discusses attention deficit hyperactivity disorder, depression, pediatric bipolar disorder, issues for children in the child welfare system, and advocacy efforts
Presents the latest information on the efficacy and side effects of antidepressants, antipsychotics, anxiolytics, mood stabilizers, and stimulants
Explains the mechanisms through which diet and exercise can influence mood disorders and psychosis
Prepares mental health professionals to provide services in primary care settings in the role of the behavioral health professional