Please Support the GSU Library!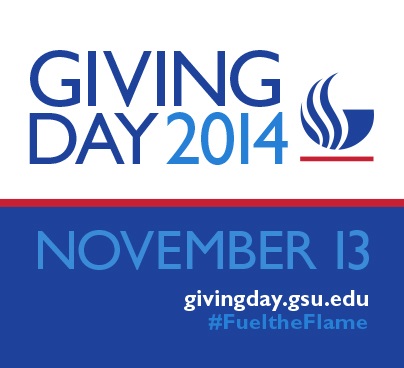 Georgia State University's Giving Day 2014 is a 24-hour online fundraising campaign that encourages university alumni, students, employees and friends from around the world to give back and support their favorite areas.
Please support the University Library on Giving Day, Thursday, November 13 by making a gift at https://netcommunity.gsu.edu/online-giving-day and selecting Georgia State University Library under "Designation".
The University Library is the heart and soul of the Georgia State University campus.  On an average day during the semester, 7,000 people enter the library.   During fall semester, it is not unusual for more 10,000 people to enter.  Based on 2013 fall enrollment, over 50% of enrolled students visited the library at least once during the semester.
The library is a place where great work happens.  Our workspaces, collections and technology are focused on supporting the collaborative and individual work that is at the core of 21st century teaching, learning and research styles.
Your donation, in any amount, will help us to continue to provide innovative spaces, services, technology, and collections that are critical to student learning and faculty and student research and scholarship.