National Day on Writing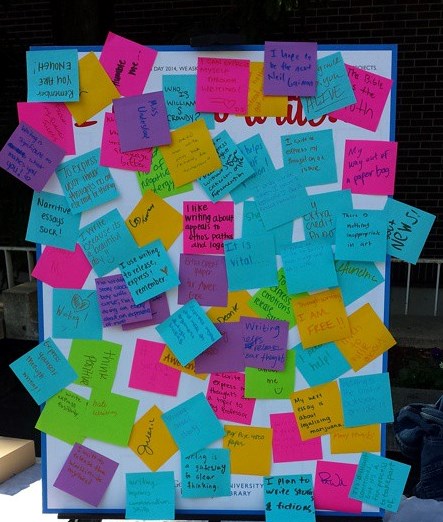 If you were wondering what was going on yesterday on the Library Plaza, it was the celebration of the National Day on Writing sponsored by the Georgia State University English Department.  What is National Day on Writing? It's a United States Senate-approved annual celebration of literacy in all of its forms. Eleven tables in Georgia State University's courtyard  represented different literacy organizations here on campus (the Library, the Writing Studio, Five Points, etc.). Each organization had its own literacy activity.  Visitors to the Library's table were asked to write why they write on a post-it note and put it on the poster. Here's a sample of some of the submissions: "Writing helps in self-discovery", "Writing is the best way to express imagination", "Writing is your way out", "Grammar is hard but reading and writing are fun!", "Writing is rad!", and "I hope to be the next Neil Gaiman".
The Library can help you with your writing with the following resources:
Expert assistance with a staff of professional librarians who specialize in researching specific subjects such as the arts and humanities, health sciences, business and more.
Research materials including millions of scholarly resources in print and online.
Tablets, laptops, and other technologies available for short-term or multi-day loan.
Distraction free zones for reading and writing such as study rooms, the coffee shop, and quiet study areas on the fifth floor.
The Library has guides to help you write such as the MLA Handbook for Writers of Research Papers, Publication Manual of the American Psychological Association, and the Everyday Writer. If you need help editing you paper after you complete your research, schedule an appointment with the Writing Studio or use their Write Chat online help. If English is not your first language, the Applied Linguistics & ESL Department's Intensive English Program offers ESL Tutoring. Our goal is to help you succeed. We are here to help!