Lecture: Roxanne Dunbar-Ortiz, "An Indigenous Peoples' History of the United States"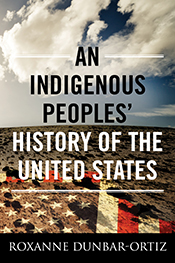 On Wednesday, October 22, historian and activist Dr. Roxanne Dunbar-Ortiz will give a lecture on "An Indigenous Peoples' History of the United States." Co-sponsored by SPEAK, BlackOUT, Faces of Feminism, GSU's Special Collections and Archives, the Institute for Women's, Gender, and Sexuality Studies, and the Association of Historians at GSU, this talk will take place from 3:00 pm to 4:45 pm in the Special Collections' Colloquium Room, Library South 8.
In her recent book, An Indigenous Peoples' History of the United States (2014; on order), Dunbar-Ortiz reframes the way we understand the past and present. Her bottom-up history of US expansion reveals how Native Americans have actively, continuously and creatively resisted displacement, dispossession, and destruction. Dunbar-Ortiz challenges us to imagine a better future. (From event flyer). Following years of activism throughout the United States during the 1960s and early 1970s, Dunbar-Ortiz went on to teach in the Native American Studies program at California State University Hayward (now California State University East Bay) for many years, and has been actively committed to international human rights since joining the American Indian Movement and the International Indian Treaty Council in 1974 . For more information about Dunbar-Ortiz, see her website.
The GSU Library has just acquired access to the digital collection "The American Indian Movement and Native American Radicalism," available to GSU affiliates through Archives Unbound (under "A" in the Databases A-Z list; go to "Your Collections" and scroll through holdings information).
Ortiz-Dunbar is also the author of the following:
This event is free and open to public. For more information, please contact Andy Reisinger of the Institute for Women's, Gender, and Sexuality Studies