First Year Book: March Book One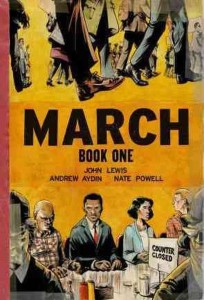 The First-Year Book program at Georgia State University provides all incoming freshmen with a common intellectual experience to stimulate discussion, to promote critical thinking, and to develop a sense of community among first-year students, faculty, and staff. This year's selection, the first graphic novel chosen for Georgia State University's freshmen students, is March Book One.  The first in a graphic novel trilogy written by Congressman John Lewis in collaboration with co-writer Andrew Aydin and artist Nate Powell, March is a vivid first-hand account of Lewis' lifelong struggle for civil and human rights, meditating in the modern age on the distance traveled since the days of Jim Crow and segregation. Rooted in his personal story, it also reflects on the highs and lows of the broader Civil Rights Movement.
The Georgia State University Library research guide for March provides links to research resources such as images from the Atlanta Journal Constitution Photographs digital collections, reviews, videos, books, and related historical research databases such as the Atlanta Daily World 1931-2003.  March can be found in the Georgia State University Library and the Georgia State University Law Library.