Islamic Scholar to Present Talk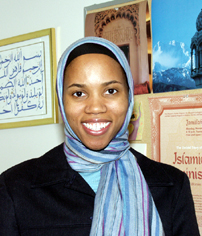 The Department of Religious Studies is proud to welcome Dr. Jamillah Karim, who will present a talk titled:
Between the Nation of Islam and Sunni Islam: Black Muslim Women Fight Racism and Engage the American Ummah
Date/Time: Wednesday, April 16, 1:30 pm -3:30 pm
Place: 34 Peachtree Building, 12th floor, Room 1207
Dr. Karim is an international lecturer in race, gender, and Islam in America. She specializes in Islam and Muslims in the United States (African American, South Asian and Arab), Islamic Feminism, Race and Ethnicity, and Immigration and Transnational Identity.  She received her doctorate in Islamic Studies from Duke University where she also did her undergraduate work in electrical engineering.  She was formerly Associate Professor of Religious Studies at Spelman College. Her latest book, to be published in July by New York University Press, is titled Women of the Nation: Between Black Protest and Sunni Islam.
Other publications by Jamillah Karim, available in the University Library, include:
"Between Immigrant Islam and Black Liberation: Young Muslims Inherit Global Muslim and African American Legacies." Muslim World 95.4 (2005): 497-513.
"Voices of Faith, Faces of Beauty: Connecting American Muslim Women through Azizah Magazine." Muslim Networks from Hajj to Hip Hop. Ed. Miriam Cooke and Bruce B. Lawrence, 169-188. Chapel Hill: The University of North Carolina Press, 2005.
"To Be Black, Female, and Muslim: A Candid Conversation about Race in the American Ummah." Journal Of Muslim Minority Affairs 26.2 (2006): 225-233.
American Muslim Women: Negotiating Race, Class, and Gender within the Ummah. New York University Press, 2009.
"Can We Define "True" Islam? African American Muslim Women Respond To Transnational Muslim Identities." Rethinking Islamic Studies: From Orientalism to Cosmopolitanism. 114-130. Columbia, SC: University of South Carolina Press, 2010.