The Music of Management is now available through ScholarWorks@Georgia State University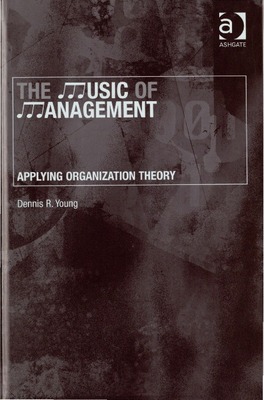 The book The Music of Management: Applying Organization Theory, by Dennis R. Young is now freely available in ScholarWorks@Georgia State University.  Dr. Young, a Professor of Public Management and Policy in the Georgia State University Andrew Young School of Policy Studies is committed to open access, and this is the third book Young has contributed to ScholarWorks.  It joins If Not for Profit, For What? and Casebook of Management for Nonprofit Organizations.
About The Music of Management:
With the exponential growth of social media and the internet, and growth of the global economy, the very nature of organizations has changed. Organizations are now flatter, substitutions have been made between staff work and technological infrastructure, organizations have greater global reach, competition for resources is fiercer, and organizations have become more embedded in complex networks, with boundaries blurring between one organization and another. While this landscape is much changed and the solutions to organizational management may be different, the basic organizational functions and challenges, as analyzed in this book, remain the same. Organizational activities must be coordinated to achieve their intended impacts, leaders and staff must be highly motivated, organizations must find their special niches where they can excel relative to their competitors and contribute their unique value in collaborations, and organizations must constantly focus on innovation if only to stay abreast of the accelerating pace of change in the contemporary world around them. These are the universal and timeless themes of The Music of Management.
Moreover, the metaphor of music continues to apply with full force. The numerous variations on musical ensembles that the book uses for illustration continue to suggest that organizational forms can be applied to new circumstances and adapted to promote new ideas, products and services. We can now contemplate ensembles whose members are far-flung geographically but still require coordination, motivation, distinctiveness and adaptation according to basic principles of organizational life. While the popular tunes change, the classics endure and variations on themes will continue to drive organizations as they do musical ensembles of every description.
The Music of Management is now available through ScholarWorks@Georgia State University.