Science at Dragon*Con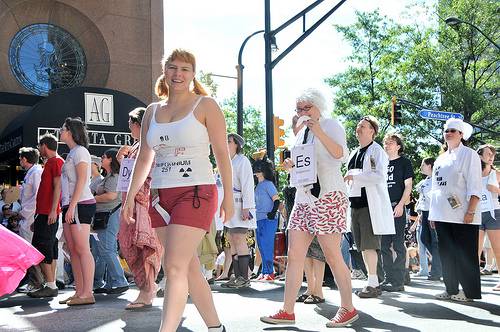 If all you've seen of Dragon*Con (Atlanta's yearly convention on Labor Day Weekend) is the parade, you might think it's just meant for science fiction, fantasy, and comics. But did you know Dragon*Con has many panels and guest speakers on science? Make sure to check out the parade at 10:00 am this Saturday (and remember the route has changed this year!), but also consider attending the convention to see some of the great science programming. Below are some recommended panels and events, along with related library resources and links if you're not attending.
At Dragon*Con: The Genetics of X-Men (Friday, 10:00am)
At the library: The Physics of Superheroes by James Kakalios
Online: Watch TED-ED's videos on the pitfalls of Superhero Science.
At Dragon*Con: MythBusters: Behind the Myths Tour (Friday, 8:00pm (separate admission))
At the library: What If…? Intriguing Answers for the Insatiably Curious by Marshall Brain
Online: Watch Mythbusters clips on the Discovery Channel's official website.
At Dragon*Con: Facts, Figures, and Google – Is Teaching Dead? (Saturday, 1:00pm).
At the library: Why Do I Need a Teacher When I've Got Google? by Ian Gilbert
Online: Check out the website Khan Academy for a different way of teaching and learning that's only possible online.
At Dragon*Con: Q&A with a Wikipedia Administrator (Saturday, 2:30pm)
At the library: The Wikipedia Revolution: How a Bunch of Nobodies Created the World's Greatest Encyclopedia by Andrew Lih
Online: Read said administrator Elonka Dunin's Wikipedia page to see which bestselling author named a character after her.
At Dragon*Con: Morality? (Saturday, 5:30pm)
At the library: Speaker Michael Shermer's The Science of Good and Evil: Why People Cheat, Gossip, Care, Share and Follow the Golden Rule
Online: Read Michael Shermer's monthly columns for Scientific American.
At Dragon*Con: 10 (or so) Amazing Facts About Our Solar System (Sunday, 11:30am)
At the library: One Universe: At Home in the Cosmos by Neil deGrasse Tyson
Online: Check out speaker Phil Plait's entertaining Bad Astronomy blog.