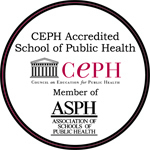 Congratulations to Georgia State University's new School of Public Health.  Founded as an institute in 2004 the program is Atlanta's first school of public health at a public university.  The School of Public Health is the first new college to be brought online at Georgia State in nearly two decades!
Dean Michael Eriksen says,
Over the course of the past decade, Public Health at Georgia State University has grown dramatically—from a certificate program with a handful of enrolled students in 2002, to a full complement of programs, including not only a certificate, but MPH and PhD degree programs.  Our MPH program has grown from approximately 40 to nearly 200 students—making us one of the largest and fastest-growing accredited programs in the Southeast.
The MPH program has five core concentrations:  Biostatistics, environmental health, epidemiology, health promotion and behavior, and health management and policy.
Learn more about the library's public health resources with this guide for their Online Program in Chronic Disease.