In case you missed our workshops last semester, you will have another opportunity to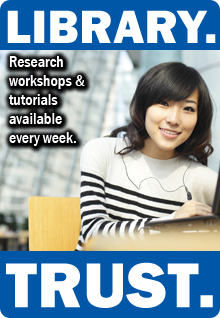 attend and get the skills you need.  Two topics are being offered – Academic Honesty and Discovering Articles, Books, and more. In the Academic Honesty session, you will become familiar with GSU's Academic Policy, know what plagiarism is and how to avoid it, as well as learn about methods and tools to cite your sources.  In the Discovering Articles, Books, and more session, you will learn how to successfully navigate the library's tools and resources to complete your research assignments.
All workshops will be in Classroom 2 from 12pm – 1pm. Select link to register.
Friday, Jan 25, 2013: Academic Honesty
Friday, Feb 8, 2013: Discovering Articles, Books, and more
Friday, Feb 15, 2013: Academic Honesty
Friday, Feb 22, 2013: Discovering Articles, Books, and more
Friday, Mar 1, 2013: Academic Honesty
Friday, Mar 8, 2013: Discovering, Articles, Books, and more
Friday, Mar 15, 2013: Academic Honesty
Friday, Mar 22, 2013: Discovering Articles, Books, and more
Friday, Mar 29, 2013: Academic Honesty
Friday, Apr 5, 2013: Discovering Articles, Books and more
Friday, Apr 12, 2013: Academic Honesty
Friday, Apr 19, 2013: Discovering Articles, Books, and more