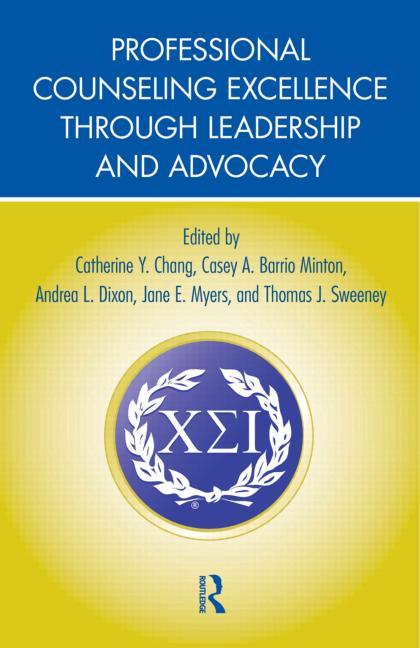 Dr. Catherine Chang and Dr. Andrea Dixon (eds.) recently published the book, Professional counseling excellence through leadership and advocacy.
Additional congratulations to the chapter authors including:  Dr. Catherine Chang, Dr. Andrea Dixon, and Dr. Brian Dew
You'll find this book on Library North 4:  LB1027.5 .P658 2012
"This book is intended as a resource for counseling students and educators to help incorporate leadership and advocacy training into the counseling curriculum, based on the new standards set forth by CACREP. It identifies the historical context of leadership and advocacy, provides a framework from which to understand these concepts, and provides concrete examples of leadership and advocacy happening in the field today"– Provided by publisher.
Check out a few other related publications:
Chang, C. Y., & O'Hara, C. (2012).  Supervision-based integrative models of counselor supervision: Developmental models. In N. Ladany and L. J. Bradley (Eds.), Counselor supervision: Principles, process, and practice (4th ed.). New York, NY: Routledge.
Gnilka, P. B., Chang, C. V., & Dew, B. J. (2012). The Relationship Between Supervisee Stress, Coping Resources, the Working Alliance, and the Supervisory Working Alliance. Journal Of Counseling & Development, 90(1), 63-70.
Sage, S., Adcock, S., & Dixon, A. (2012). Why Humanistic Teacher Education Still Matters. Action In Teacher Education, 34(3), 204-220.