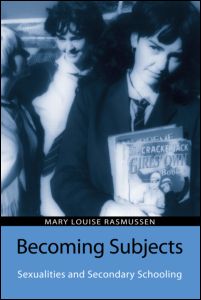 The GSU Women's Studies Institute announces its 2012-2013 Speakers Series, which will begin on Monday, October 8, with Mary Lou Rasmussen, Professor of Education at Monash University, speaking on "Cool Secularism? Reframing 'Progressive' Sexuality Education."
Rasmussen is the author of Becoming Subjects: Sexualities and Secondary Schooling (2006) and co-editor, along with Eric Rofes and GSU Women's Studies Institute Professor and Institute Director Susan Talburt, of Youth and Sexualities: Pleasure, Subversion, and Insubordination In and Out of Schools (2004).
Rasmussen is also the author of several articles, including:
Rasmussen's talk, co-sponsored by Faces of Feminism and SPEAK, will take place at 4:30 pm on Monday, October 8, 2012, in the Troy Moore Library, 939 General Classroom Building. This talk is free and open to the public. For questions, please contact Andrew Reisinger at areisinger1@gsu.edu.