[Adrienne Rich reads her poem "What Kind of Times Are These." Part of the Poetry Everywhere project airing on public television. Produced by David Grubin Productions and WGBH Boston, in association with the Poetry Foundation. Filmed at the Geraldine R. Dodge Poetry Festival.]
Poet, essayist, and feminist activist Adrienne Rich passed away last week at the age of 82. The author of two dozen volumes of poetry and several volumes of prose, Rich was a prolific and gifted poet, feminist thinker, and public intellectual. The New York Times reports in their obituary of Rich that her publisher, W. W. Norton, estimates that her poetry alone has sold almost 800,000 copies.
Following an unhappy marriage which resulted in three children (and her powerful prose analysis of motherhood, Of Woman Born: Motherhood as Experience and Institution (1976), Rich effectively came out as a lesbian in 1976 with the publication of Twenty-One Love Poems (included in the collection The Dream of a Common Language [1978]); her writings were strongly shaped by her strong commitments to feminism, civil rights, and her identity as a Jewish woman. Her influential essay "Compulsory Heterosexuality and Lesbian Existence," first published as a small stand-alone volume (available in our Special Collections here; library use only) and later anthologized elsewhere, including her 1986 collection of prose writings, Blood, Breath, and Poetry.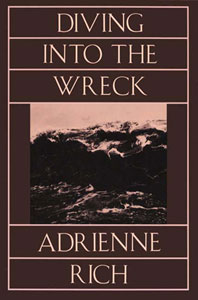 Rich won many awards throughout her career, including a MacArthur Foundation "genius" grant in 1994, two Guggenheim fellowships, a National Book Foundation medal for distinguished contribution to American letters (in 2006), and a National Book Award for poetry in 1974 for Diving into the Wreck (1973), often considered to be her masterwork (she accepted the award on behalf of all women, accompanied on stage by two other finalists, Audre Lorde and Alice Walker). She was also awarded the Bollingen Prize for Poetry, the Academy of American Poets Fellowship and the Ruth Lilly Poetry Prize. She declined the National Medal of Arts, the US government's highest award for artists, in 1997, out of concern about rampant racial and economic injustice nationwide, resisting the honor awarded to "a few token artists while the people at large are so dishonored." Art, she noted at the time, "means nothing if it simply decorates the dinner table of power which holds it hostage." (letter to Jane Alexander, chairwoman, National Endowment for the Arts, quoted in New York Times obituary of Rich, March 29, 2012). Click here to hear a 1997 interview with Rich about this event, including Rich reading her letter to Alexander.) Over the course of her life, she taught widely, at schools including Columbia, Brandeis, Rutgers, Cornell and Stanford Universities.
The GSU Library has many of Rich's publications, including:
The GSU Library also has several audiovisual resources of and about Rich: