Historical Health Posters from China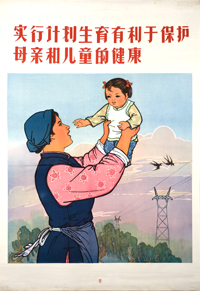 The National Library of Medicine's History Division presents an online exhibition, Family Planning and Socioeconomic Development:  Health Posters from the People's Republic of China.
The exhibit contains posters from 1950 through the Cultural Revolution of the late 1960-1970's.  Details from the exhibit state:
 As one of the most populous countries in the world, China saw the need to have a strong family planning policy. The country launched 3 family planning campaigns: in 1956-1957, 1962-1966, and 1971 to the present, in order to control population growth. These campaigns—especially the third one—were remarkably successful. China's population was 22 percent of the world in 1949 with 541.7 million people, and 20 percent in 1999 with 1.26 billion.
Learn more at the GSU Library. This interdisciplinary Research Guide on Chinese Studies contains many of the library's online resources available to students and faculty.  We also have many books about China's population policies including the following: