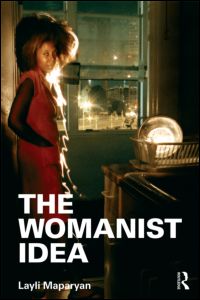 Prof. Layli Maparyan of the Women's Studies Institute will give a talk on her newly published book The Womanist Idea (2012) on Monday, March 12, from 4:30 – 6:00 pm. The talk will be held at the Troy Moore Library, 939 General Classroom Building, 38 Peachtree Center Avenue (corner of Decatur Street and Peachtree Center Avenue). For more information, please contact Andrew Reisinger at (404) 413-6582 or areisinger1@gsu.edu.
"Following on the heels of The Womanist Reader [edited by Maparyan], The Womanist Idea offers a comprehensive, systematic analysis of womanism, including a detailed discussion of the womanist worldview (cosmology, ontology, epistemology, logic, axiology, and methodology) and its implications for activism. From a womanist perspective, social and ecological change is necessarily undergirded by spirituality – as distinct from religion per se – which invokes a metaphysically informed approach to activism." (from publisher's information)
Prof. Maparyan is an associate professor in the Women's Studies Institute and the Women's Studies graduate director; she was recently awarded the Elizabeth Hurlock Beckman Award. She is the editor of the collection The Womanist Reader, and the co-author of chapters in the Handbook of Feminist Family Studies and The Human Tradition and the Civil Rights Movement, 1865-1980 and author of a chapter in Defining Difference: Race and Racism in the History of Psychology, in addition to articles in the Journal of African American Studies, the Journal of African American History, and the Journal of Homosexuality.
Additionally, Maparyan co-hosted a 10-part TV series called "Faith and Feminism" for Atlanta Interfaith Broadcasters (AIB-TV). She currently co-hosts a new spirituality-focused current affairs talk show, "The Circle," airing monthly on AIB-TV (weekly schedule available here). Prof. Maparyan is also co-founder of the Liberia Working Group of Metro Atlanta, first established in 2008.
Congratulations to Prof. Maparyan for her outstanding work!