President's Speaker Series: A Conversation with Paul N. Courant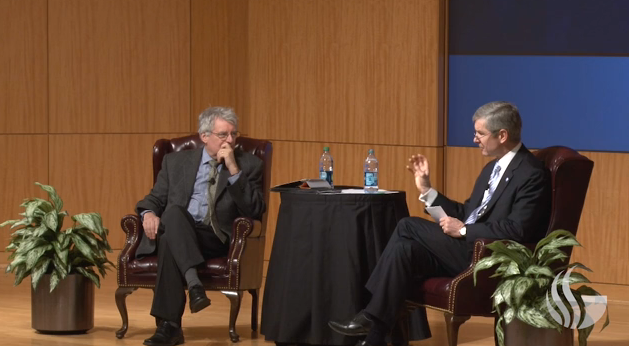 At yesterday's public conversation with President Becker, Paul N. Courant said, "If we don't respond to student demand, we're toast."
If you're interested in the future of academia, you'll want to hear Courant's ideas. As Provost at the University of Michigan, Courant was crucial to negotiating a contract with Google, allowing them to digitize the contents of the university's library for what is now known as Google Books. Courant is currently the University Librarian and Dean of Libraries at the University of Michigan, as well as an expert on the economics of universities, libraries and archives and a prolific scholar in economics and public policy.
Continuing a series of talks from provocative intellectuals like Arizona State's Michael Crow, Courant spoke with President Becker about the future of academic libraries and information. Video of the event is available. Courant and Becker discussed such topics as:
The big implications that stem from fundamental changes in libraries and technology.
The digital availability of information content.
The changing economics of text books as tablets become more ubiquitous.
The importance of special collections in academic libraries.
The future of university presses.
How information will be more accessible, despite the "death of the book."
The closed system of Apple's publishing model.
"Scholarly literacy" – or, the awareness of standards of sources and research methods so one can make a critical judgment about the validity of information.
Print-on-demand services in academic libraries.
Beyond his role at the University of Michigan's library, Courant is also Harold T. Shapiro Collegiate Professor of Public Policy, Arthur F. Thurnau Professor of Economics, Professor of Information, and Faculty Associate in the Institute for Social Research at the University of Michigan. From 2002-2005 he served as Provost and Executive Vice-President for Academic Affairs, the chief academic officer and the chief budget officer of the University. He has also served as the Associate Provost for Academic and Budgetary Affairs, Chair of the Department of Economics and Director of the Institute of Public Policy Studies (which is now the Gerald R. Ford School of Public Policy).