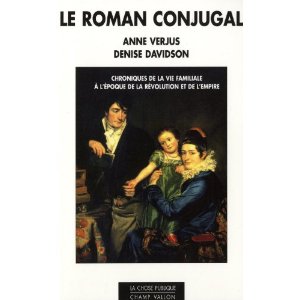 Professor Denise Davidson of the Department of History has recently published, along with co-author Anne Verjus, Le Roman Conjugal: Chroniques de la Vie Familiale à l'Époque de la Révolution et de l'Empire (2011)
"During the revolutionary era, the family was often presented as the basic unit of the nation and the crucible of citizenship. The French Revolution and the First Empire made the family the plaything of laws that were by turns progressive and reactionary. Couples lived under the influence of these laws. In a society which knew, in the space of a generation, the shattering of precedent, married women and men discovered the intimacy of conjugal life, the force of desire and sentiment; these spouses shared a daily life of tranquility and banality, but also, in these troubled times, extraordinary threats, fears, and suffering. With their men absent, the wives learned to shoulder new responsibilities, and the husbands, to know their wives in a new light. Fathers and mothers chose to educate their children according to Rousseau, yielding to the new trends of merit and competition. All had to learn the new catechism of marital rights and duties, but not all made a religion of it." (roughly translated from publisher's information).
Written in French, Le Roman Conjugal traces the marriages of two representative French couples, Antoine Morand of Jouffrey and Magdeleine Guilloud, married in 1785 and living in Lyon, and Pierre and Amelie Vitet Arnaud-Tizon, married in 1801. From the 1500 letters that form these couples' epistolary exchanges, Verjus and Davidson trace the marital histories of these couples within the broader context of the rapidly shifting social, legal, and familial norms of the French Revolution and the First Empire.
Prof. Davidson has also published France after Revolution: Urban Life, Gender, and the New Social Order (Harvard University Press, 2007) and a number of articles, including