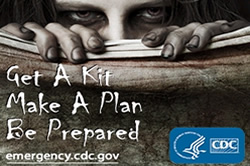 Have you considered how to prepare for a zombie apocalypse?  Atlanta residents are luckier than most; we have the Centers for Disease Control and Prevention right in our city.  Before the zombies arrive, follow these simple recommendations from the CDC so you'll be ready.  And feel comforted that the CDC is ready to handle the outbreak.
If zombies did start roaming the streets, CDC would conduct an investigation much like any other disease outbreak. CDC would provide technical assistance to cities, states, or international partners dealing with a zombie infestation. This assistance might include consultation, lab testing and analysis, patient management and care, tracking of contacts, and infection control (including isolation and quarantine).
Help protect yourself with these university library resources:
If you're in GSU's Public Health program consider getting a certificate in Disaster Management!