Exhibit Explores Archaeology at Georgia State University
Learn more about the archaeological process in the Georgia State University Library – check out the exhibit in the display case on Library North 1st Floor, created by a team of current and former GSU Anthropology/Archaeology students (Hannah Parker, Kelly Woodard, Firoozeh Forouzan, Sam Blizzard, Meg Moran) and professor Jeffrey Glover in celebration of the Society for Georgia Archaeology's Archaeology Month (through May 31).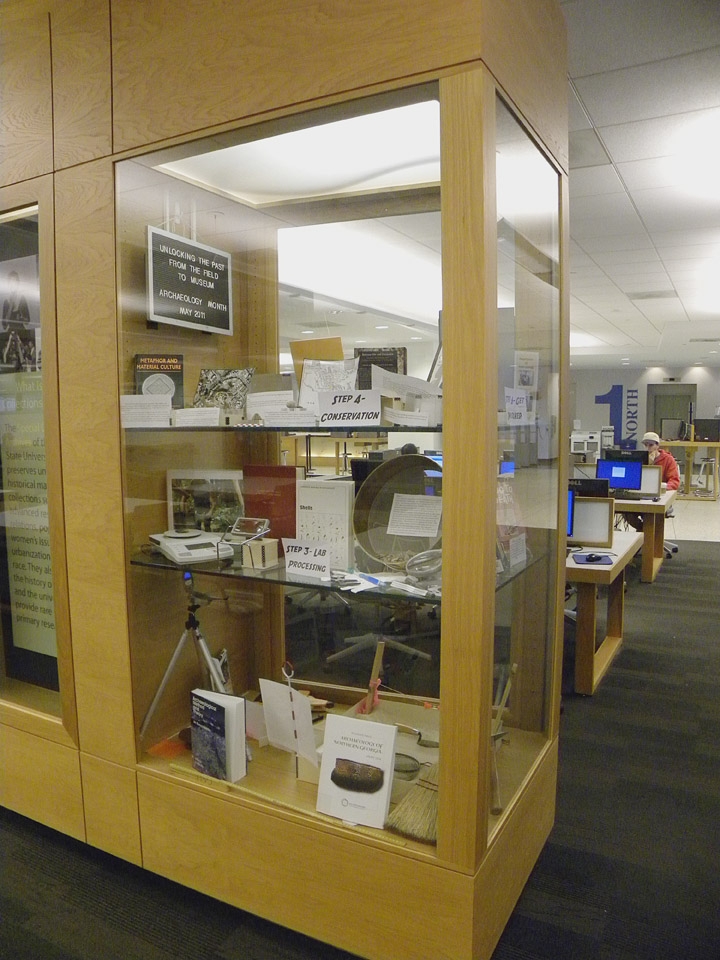 Entitled "Unlocking the Past From the Field to Museum," this exhibit presents various aspects of the archaeological process, highlighting activities ranging from background research, fieldwork, to the dissemination of archaeological findings.  The exhibit includes various artifacts from prehistoric and historic sites in the Atlanta area as well as collections from Costa Rica, Iran, and Mexico, with dates ranging from 5000 B.C. to A.D. 1000, exemplifying the material culture that archaeologists use to reconstruct the lives of past peoples.  Various dig tools and library resources covering archaeological theory, methodology, and findings complete the exhibit.
Accessible when the Georgia State University Library is open – please call 404-413-2800 or check the GSU calendar for GSU-affiliate and/or General Public hours for the specific day you plan to come.