October is Georgia Archives Month!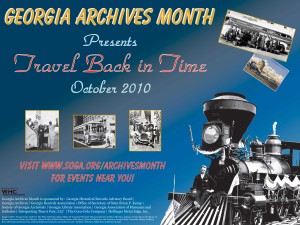 Every October, archives and repositories across the country celebrate Archives Month in order to showcase their collections of unique primary resources for research and to increase awareness of their work. In Georgia, the theme for this year's Archives Month is Travel Back in Time.
Georgia State University Library's Special Collections and Archives Department presents an exhibit of photographs and artifacts exploring how Atlanta's heritage as a terminus for major railroads positioned the city as a regional, national and international hub for transportation. Resources from the Southern Labor Archives, Tracy O' Neal, Lane Brothers and the Atlanta Journal-Constitution photographic collections are used to illustrate how the transportation developments that transpired over 150 years ago created the city we know today.
The airline industry is a particular focal point of the exhibit, enriched with the artifacts and photographs of the many collections within the Special Collections and Archives Department. Travel back in time to view the development of the airport that made Atlanta the transportation hub that it is today.
In addition to the exhibit, the Special Collections and Archives department will host a talk by Carolyn Lee Wills, a Georgia State University alumna and former Regional Manager of Public Relations for Eastern Airlines. Wills' career with Eastern from 1965 until 1987 is represented in her Eastern Airlines' Southern Region Public Relations Office collection, which consists of newsclippings, press releases, newsletters, reports, correspondence, memoranda, photographs, promotional items, audiovisual materials and an early scrapbook that documents the airline back to 1927. Follow this blog for more information on this and other archives month activities during October.