Meeting the Enemy – 9/21 discussion & book signing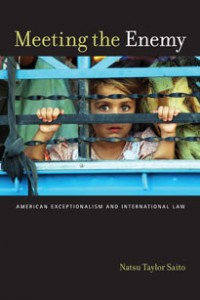 Georgia State University (GSU) College of Law Professor Natsu Taylor Saito's new book, Meeting the Enemy: American Exceptionalism and International Law, is a bold examination of the often contradictory role that U.S. policies and practices play in furthering principles of global rule. Saito observes that while the United States has played a crucial role in the development of international legal norms and institutions, it has frequently exempted itself from their application.
The GSU College of Law will host a discussion and book signing with Saito at 4 p.m. Tuesday, Sept. 21, in the Law Library.