Neil Gaiman speaks at Agnes Scott College on December 14, 2009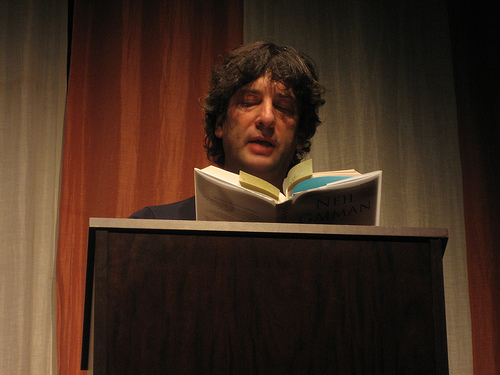 On December 14, 2009 at 6:00 p.m. best-selling author Neil Gaiman will speak at Agnes Scott College in Decatur. Gaiman's appearance at Agnes Scott is hosted by the Decatur bookstore Little Shop of Stories, the grand-prize winner for a Halloween Party contest themed around Gaiman's The Graveyard Book. This speaking engagement is a noteworthy event for Georgia State University faculty and students interested in studying creative writing, film, fantasy fiction or comic books. Georgia State University Library even has a book in our collection called Prince Of Stories: The Many Worlds of Neil Gaiman that would be a great starting point for examining his work. On the other hand, maybe you are just a fan and want to see the Mr. Gaiman in person!
Neil Gaiman began his writing career in comic books, where his best-known work remains the Sandman series. Our collection carries The Absolute Sandman, the oversized collection of the series' first twenty issues. Our browsing collection also has a copy of Gaiman's most recent return to comics, where he wrote a Batman story titled Whatever Happened To The Caped Crusader?
In addition to his comics work, Gaiman is also known all over the world for his prose fiction. Books like American Gods, Anansi Boys, Stardust, Good Omens (with Terry Pratchet) and Coraline have garnered Gaiman multiple awards and have been international best-sellers. Our collection also contains Gaiman's The Graveyard Book, mentioned above as the theme for Little Shop of Stories' award winning Halloween party. We also have a collection of Gaiman's short fiction available, titled Fragile Things.
Finally, Gaiman has also made a name for himself in the media industry. In 1996, the BBC produced a Gaiman written television series called Neverwhere. He has since penned screenplays for 2005's Mirrormask (directed by his Sandman cover artist Dave McKean) as well as the recent adaptation of Beowulf. Both Coraline and Stardust were also made into feature films.
The Gaiman event at Agnes Scott will be a ticketed event, although according to his wishes the tickets will be free. Please read the Little Shop of Stories' information about the event for further details. If you found this post helpful by either making you aware of the event or by introducing you to some of Gaiman's material in our collection, please let us know!
Photo courtesy of Creative Commons license: