At the end of February 2018, the University Library administered a survey to a random sample of 5,000 Georgia State students currently enrolled at all campuses. This post is one in a series that highlights a survey trend and the library's response. We welcome your feedback anytime.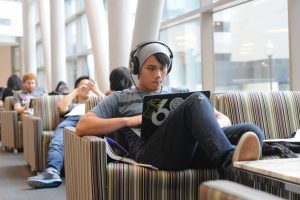 Whenever the library solicits feedback from students, we can expect to get a ton of requests for more electrical outlets. The spring survey was no exception! You need more places to plug in. The library has responded to this need as funding and space allow. The last time we added outlets was in 2016, when the Atlanta library installed outlets (along with new seating areas) to Library South 4 and Library North 3, 4, and 5.
Just before we administered the 2018 spring survey, an undergraduate student requested a meeting with the Associate Dean for Public Services with the intent of discussing the need for additional outlets. This meeting resulted in a walking tour of the Atlanta library, with the student suggesting new outlet locations. This combination of survey feedback and the student meeting has resulted in a plan for additional outlets at the individual study carrels and group study tables on Library North 3, 4, and 5. Look for the outlets—paid for with your Library Fee funds—at the beginning of fall semester 2018.
Check out the complete survey summary report for more details.