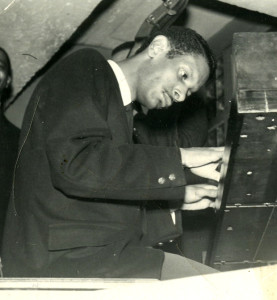 The papers of jazz pianist and composer Duke Pearson are now part of the Popular Music and Culture Collection at Georgia State University. Atlanta-born Columbus Calvin "Duke" Pearson, Jr. studied piano at Clark College (now Clark Atlanta University) before touring extensively with jazz ensembles in the fifties and sixties. Among his compositions are the popular "Cristo Redentor" and "Jeannine." Duke later took on many roles at the jazz label Blue Note Records. From 1963 through 1971, he worked as a producer, arranger, session musician, and bandleader for the company. Throughout his career Duke played with prominent jazz figures including Joe Williams, Nancy Wilson, Chick Corea, and Donald Byrd. He returned to Atlanta to teach at Clark College, as well as continuing to tour before his death in 1980.
The Duke Pearson collection donated by his nephew Gerald R. Ford contains photographs, hand-written music, session notes, contracts, and press clippings from Duke's life and career.
Questions about this collection should be directed to Kevin Fleming, archivist, Popular Music and Culture Collection, at 404-413-2880 or archives@gsu.edu.