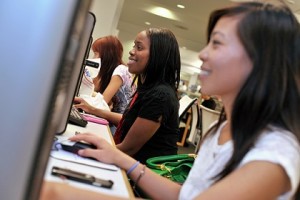 If you're looking for an opportunity to gain leadership experience while improving your library, the University Library needs you! Consider applying for the Student Library Advisory Council for the 2016-17 academic year. As a council member, you'll help us improve existing services and resources and prioritize for the future.
Past activities of the Student Library Advisory Council have included:
Participating in the library's Student Technology Fee proposal process
Serving as usability testers for library website testing to improve site navigation
Proposing the addition of sanitizing stations to Library North (approved and implemented by Library Administration)
Offering suggestions in focus groups during the design and planning stages of CURVE
Membership details are available on the application page. The application deadline is Tuesday, September 13, 11:59 pm.