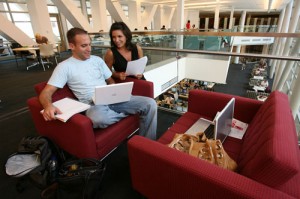 If you're looking for an opportunity to gain leadership experience while improving your library, the University Library needs you! Consider applying for the Student Library Advisory Council for the 2014-15 academic year. As a council member, you'll help us improve existing services while providing feedback on potential new services.
During the 2013-2014 membership year, the Student Library Advisory Council:
Proposed adding sanitizing wipes dispensers to Library North floors 1-4 and Link 2 (which was approved and implemented by Library Administration)
Participated in library website tests that helped improve site navigation
Offered suggestions in focus groups during the design and planning stages of CURVE
Ranked the library's Student Technology Fee project proposals
Apply online through Wednesday, April 23, 5:00 pm.